Buying your first home is one of the most exciting yet daunting experiences you can have. With so much to consider—from budgets and mortgages to aesthetics and property values—there's no doubt that buying a home can be an overwhelming task for first-time homebuyers. However, with a little planning and insider guidance on how best to go about it, leaping into homeownership doesn't have to send chills down your back. In this blog post, we'll discuss our best tips on how to make the process as stress-free as possible – give them everything they need for their journey toward owning their own home!
Tips for First-Time Homebuyers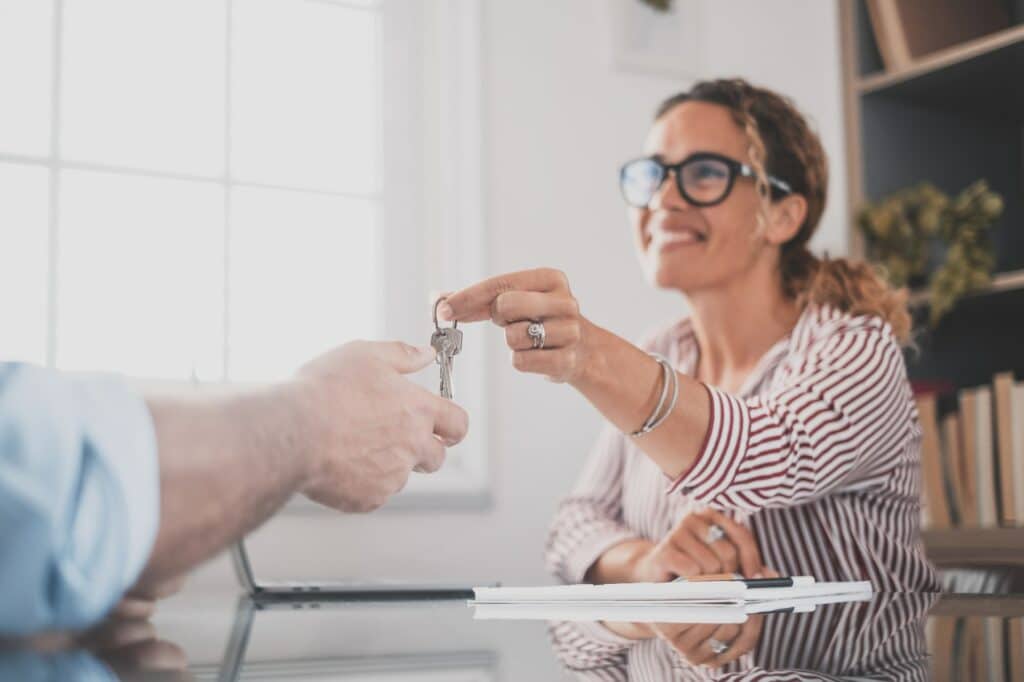 As first-time homebuyers, it's important to do some logistical preparation before browsing through real estate apps and dreaming about your future home. This will better equip you for the competitive, in-demand housing market and home-buying process.
Find a Great Real Estate Agent
One of the best things first-time homebuyers can do is find a great real estate agent. A realtor can help guide you through the process and act as an advisor to help you navigate the ever-changing market. They have knowledge of current trends, upcoming listings, potential landlords, and other important information, such as local zoning laws, that can be invaluable in finding your ideal home.
Take a Look at Your Debt-to-Income Ratio
Your debt-to-income ratio is another important factor for first-time homebuyers in your ability to qualify for a loan. It's the amount of money you make divided by the amount of money you owe, and lenders look at this number when deciding whether or not to approve a loan. A good lender will take into account any future expenses you may incur, such as student loan payments or car payments when assessing your debt-to-income ratio. Before you can start your mortgage application and search for a house, it is important to manage your current debt. This involves:
Credit Cards: To maintain a good credit score, ensure that you use no more than 30% of your available credit on your credit cards. Using all of your available credit may suggest to lenders that you are not responsible with your credit, leading to a low credit score.
Student loans: To make your monthly payments more manageable, you could think about paying off or reducing the amount owed on any installment loans, such as auto loans.
Installment loans: You might consider paying off or significantly paying down any installment loans (e.g., auto loans) to ease your monthly obligations.
However, it is extremely important for first-time homebuyers to talk with their lender before doing any of these things. They will be able to give you advice based on your current financial situation.
Your credit score is an integral part of the mortgage process and makes up a large portion of your debt-to-income ratio. That's why it's important to check your credit score and make sure that it is accurate. If you find errors or discrepancies, contact the appropriate agency to have them corrected.
Understand and Review Your Budget
Before you start looking for a home, it's important to have an understanding of your budget. This will help you determine how much house you can afford and what kind of mortgage payments you will be comfortable with. It's also important to understand any upfront or closing costs that will be associated with the loan, as well as potential additional expenses such as property taxes and homeowners insurance.
Get Preapproved for a Loan
Before you start shopping for a home, it's important to get preapproved for a loan. This will give you an idea of what kind of mortgage payments you can expect, as well as any potential closing costs. Additionally, getting preapproved can help demonstrate to sellers that you are a serious and motivated buyer ready to make an offer on their property.
Determine What You Have for a Down Payment
Your down payment is the amount of money you will put down on your home when making an offer. This number should be based on your budget and available funds, so it's important to determine what you have for a down payment before making an offer. Additionally, some lenders may require additional funds in the form of closing costs or reserves. This is often the scariest thing for first-time homebuyers, but understanding your available funds and having a plan to save for it can help you feel confident in making the leap.
Research Different Mortgage Options
It's important to research different mortgage options that are available to you as first-time homebuyers. Depending on your situation, there may be specific loan options or programs that fit your needs better than others. It's important to consider all of the pros and cons of each type before making a decision.
As first-time homebuyers, comparing mortgage rates from different lenders is important. This will help you get the most competitive rate and ensure that you're not paying more than you should for your loan. Additionally, many lenders offer incentives such as low or no down payment options, so it's important to shop around to find the best deal.
Decide What Type of Home You Want
After all of that, it's time to decide what type of home is right for you. As first-time homebuyers, it's important to take into account things such as size, location, amenities, and style should all be taken into account when deciding which property is best for you.
Research the Area You Want to Live
Before making an offer, it's important to research the area you are looking to live in. As first-time homebuyers, you probably don't know the area very well, so it's important to research things such as local schools, crime rates, job opportunities, and quality of life. Knowing this information can help you make an informed decision about where you want to live.
Make an Offer on Your Home
Once you have researched, decided on the type of home you want, and found the perfect property, you can make an offer. As first-time homebuyers, it's important to be realistic about what you can afford and understand that there is no guarantee that your offer will be accepted. However, knowing all of the steps in the process and having a plan in place can help you feel more confident in making an offer on the home of your dreams.
How Honey Tree Realty Helps First-Time Homebuyers
Honey Tree Realty is here to help first-time homebuyers through every step of the process. From helping you find the perfect lender to researching the area and making an offer, Honey Tree Realty will be with you every step of the way. Our experienced real estate agents have years of experience helping first-time homebuyers and can provide insight, guidance, and support. Contact us today to learn more about how we can help you become a homeowner!